We are also the only service providers of the DustRam® System in the Phoenix Metro areas. This is a premium service for removing tile, saltillo, stone, slate, concrete and wood flooring dust free. We also provide the DustRam® System for floor preparation & flattening to a tolerance of 1/16″ in 50 linear feet. Please visit azhomefloors.com for more information on these amazing services!
AZ Concrete Leveling
Here's a short video that help you understand how concrete leveling is done and why it's so important. After you watch the video, call me at 480-418-1635, and I'll be glad to answer your questions or set up an on-site visit to discuss how to prepare your subfloor.
The video above was taken in the Phoenix Arcadia district. This type of concrete is very old and very un-flat. Skeptical? Watch the video to see how un-flat and un-level it really is. See our unique process of preparing the concrete to accept Mapei Ultraplan 1 Plus Leveler and Mapei Ecobond 995 Moisture Vapor Protection System with Sound Deadening Properties.
---
Why is concrete leveling necessary? Concrete leveling is important when installing any type of flooring. With concrete leveling, you can be assured that any type of flooring will look its very best. It's also smart financially: most manufacturers' warranties are void if the flooring is installed over uneven concrete. Concrete leveling also means you have eliminated dangerous spots that might cause tripping.
Different elevations of concrete slabs
Concrete adjoining the main house with an Arizona room
---
It's unfortunate that more care is not taken during construction when the slab is poured. Many surface preparation costs could be eliminated by better workmanship at that stage. Once the concrete has been poured and finished, the only way to remedy an uneven surface is by either concrete grinding (for the high spots) or concrete leveling (for low spots). Many times it takes a combination of both to achieve a flat floor.
---
It's important to note that "self-leveling underlayments" are self-leveling only if applied correctly. In most instances, leveler is applied using an aluminum screed to control the depth of the levler. Without careful use of these aluminum leveling screeds, the leveler could not be applied properly, and could easily be over-poured, creating a hump. Once the leveler dries, a hump created by over pouring is extremely difficult to grind down. In fact, dried leveler is four time harder to grind than concrete! The leveler itself is expensive, and if applied improperly, can turn out to be an even more expensive mistake.
---
If you live here in the Phoenix metropolitan area, you may find that it becomes necessary for some az concrete leveling. Whether you are remodeling your home, or building a new home, the fact remains that the quality of concrete finishing leaves much to be desired.
If you are reading this, then you probably have some problems with the levelness of your concrete floor. There is no need to despair! This is so common, that rarely anyone who owns a home can escape these issues.
---
So, maybe you are a homeowner that was planning on installing some wood, laminate, stone, porcelain, or ceramic. You've moved your furniture, cut your carpet and padding up to remove it, and what a surprise! Big, giant cracks everywhere, and some of them large enough to trip over. Now what?
Give us a call right now at 480-418-1635 and we can help!
---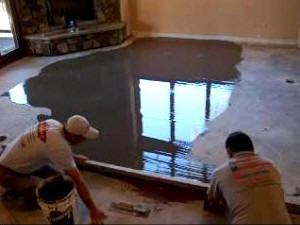 Our soil in the valley is made up "expansive soil." This means that this type of soil will expand depending on how moist or wet it is. One of the best ways to prevent this from happening is to build your home with a "post tension slab" system. This system is very similar to the bridges across our riverbeds. Cables are run through the concrete before the concrete is poured, and then tightened later.
Well, maybe you live in an older home that wasn't built with such a system. That's still okay. We have equipment that can make the most cracked and wavy floor behave!
Concrete Leveling | Ahwatukee, Apache Junction, Casa Grande, Chandler, Desert Mountain, Flagstaff, Gilbert, Gold Canyon, Maricopa, Mesa, Paradise Valley, Payson, Peoria, Phoenix, Phx, Prescott, Prescott Valley, Queen Creek, Scottsdale, Sedona, Tempe, Tucson